Best Choice in IT Ticketing Software
Make your IT Support organized, focused and effective. IT help desk software from UseResponse is the best way to reduce the support hussle and improve your company's self-service. With multi-channel IT ticketing system you will keep all the incoming requests organized.
What Is IT Ticketing System?
IT ticketing system (also referred to as an IT support help desk software) – is a part of the helpdesk service within the organization that was specially designed to organize and manage internal and external IT issues and requests within your organization. The main purpose of IT service desk ticketing system is to convert all the incoming requests from various sources into tickets and track the issue resolution lifecycle.
Deal with IT issues and requests in a new, structured way!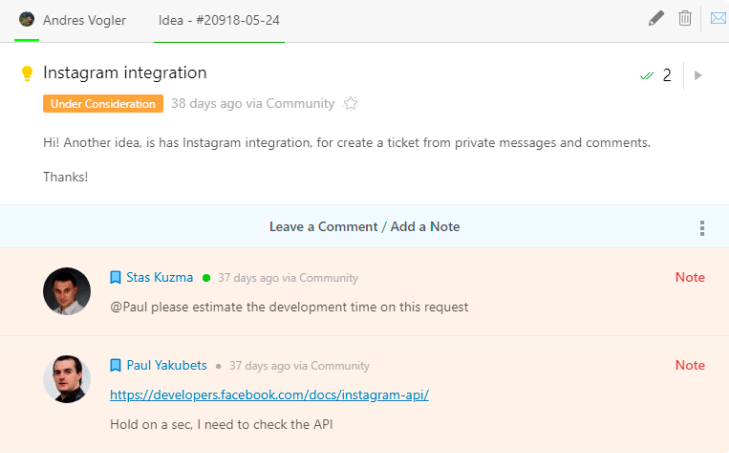 UseResponse IT Ticketing Tool allows you to modify the flows so that you can tailor the product to fit your IT department's needs and update the system as your processes change over the time. It will help you to: - Reduce IT costs - Encourage self-service - Reduce manual work - Reduce issues lifecycle - Increase IT efficiency and productivity - Improve customer satisfaction
Organize Tickets
No more mess with incoming requests.
The system will organize all the incoming requests from emails, request forms, social media into one single hub where all the incoming data will be stored in the ticket logs.
You will be able to sort the tickets by types, priorities, assign them to a certain department and have full control over the resolution process.
Convenient Agent Dashboards
Use well designed
dashboards
and custom reports to give your agents a clear view of the current tickets load and queues.
As a part of Agile service desk use
Kanban boards
to make the work of your IT department visual.
You can create your own custom statuses for the tickets, or use the most common flow: "Planned – In Progress – Verify – Completed".
Better Issue Tracking and Management
Tickets within your IT support help desk software can be organized into different categories like Bugs, Feature requests, Technical Issues, etc. With the help of UseResponse you can convert all the incoming requests into tickets and manage the rules for ticket routing, escalation, and assignment. Meanwhile you can break the tickets into smaller tasks for better issue resolution.
By using canned responses and macros you can automatically solve common problems way faster.
Key Elements of IT Help Desk Software
Centralized ticket repository
Converting emails into tickets
Ticket status and priority
Ticket Assignments
Ticket Automations
Issue/Bug Tracking System
Internal Help Desk
Communication tracking
Automated workflows
Reporting and analytics
Knowledge Base & FAQ
Live Chat
See All These Features Live
With Our Specialist
Get in touch with our consultant to see how our IT help desk software can be helpful in your particular use case.
Highly Reviewed IT Ticketing Software
"UseResponse serves as our primary online customer support hub. It allows us to collect feedback data from our customers, which helps us to understand the quality of our service and to discuss making improvements accordingly. The reports and data compilation features let us put together information quickly so we can respond to issues as soon as possible and provide a better experience for our customers. "
Trusted by 1000+ companies