Most companies do ask for customers' feedback and spend lots of resources on gathering it, but not all are happy with the outcome.
When organized the right way, building feedback loops is beneficial both for customers and the company. Firstly, you show your customers that the company really cares about it's products, services and listens to the people using it.
Secondly, for companies, customer feedback loop is a powerful tool to understand how people use their products, what they like and what they don't like.
Definition of Customer Feedback Loop
Customer feedback loop stands for the process of ongoing improvement of product or business based on the customers' insights.
It is not only the source of continuous product development but also a valuable asset at gaining customer loyalty for any company.
Customer feedback loop should be a constant cycle of mutual interaction between the client and the company where feedback is received and implemented. Accordingly, the changes applied affect the customers, who provide new feedback and the loop repeats.


Why Should Companies Care About Gathering Feedback
There are several ways of how companies can benefit from listening to their customer's voice to stay ahead of the competition and build better relationship with their customers:
Improve products and services
Create better customer experience and improve customer retention
Give valuable information to potential customers at the point of decision making
Measure customer satisfation
Turn destractors into promoters
Stages of Customer Feedback Loop
Ask for Feedback
Collect Feedback
Sort and analyze feedback
Act on feedback
Notify customers and follow up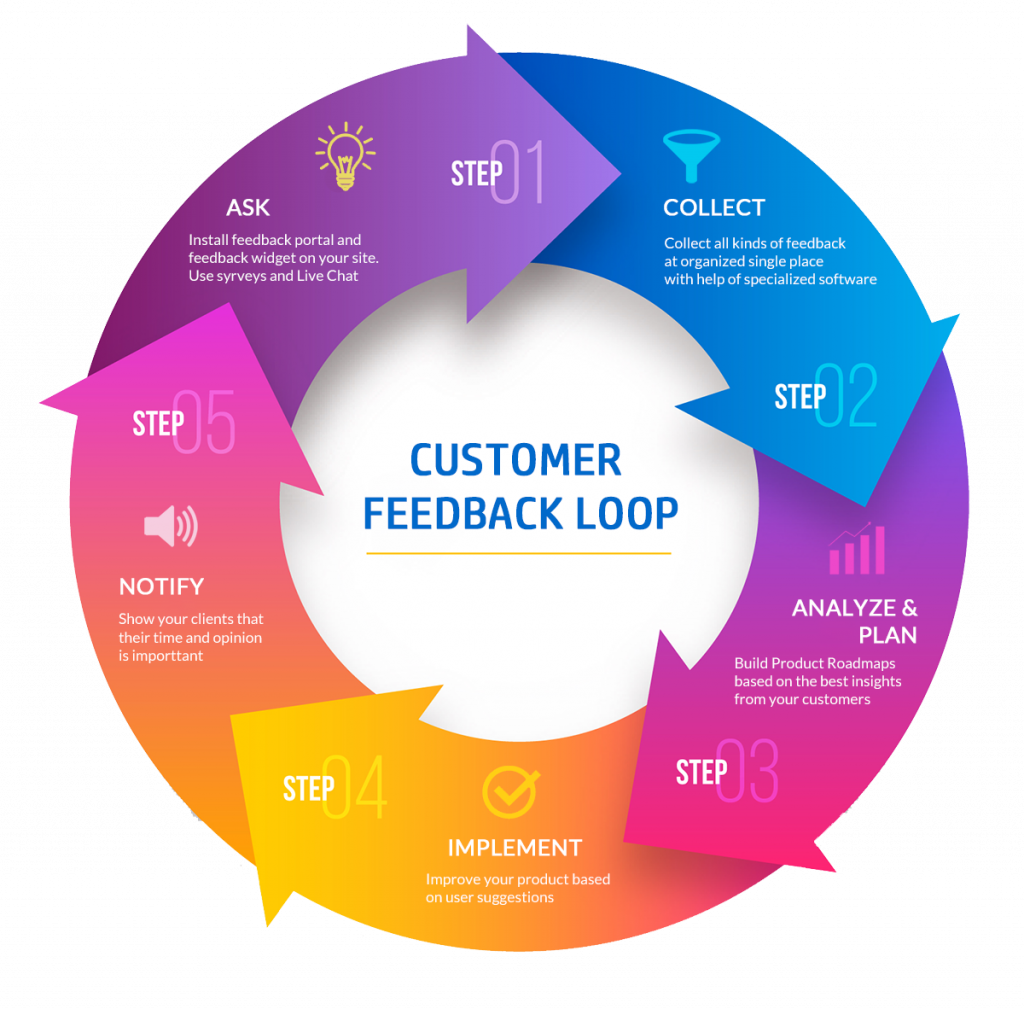 Step 1. Ask for Feedback
Customer feedback can come from various sources, and it is important to use centralized mechanism to keep it in one place. This way you can better analyze the incoming feedback and keep track of all the client's communications in one single place.
Here are some most popular strategies to consider:
Social listening
Product reviews
Satisfaction surveys
Staff surveys
Live Chat
NPS (Net Promoter Score)
Interviews
Open Feedback forums
You should be looking to gather feedback at every opportunity possible. Most clients are willing to share their feedback, your purpose is to provide an easy way to do it. You can place Feedback widget and create open community, set up automation emails and chat messages upon certain actions. Gather feedback from all types of customers be it a potential lead or returning customer.
Step 2. Collect Feedback
For more than 10 years our company has been collecting customers emails, tickets, chat conversations, social media contacts via specialized hub – UseResponse. Not only the customers send their ideas and suggestions or feature requests, but also flag issues and ask questions about the product.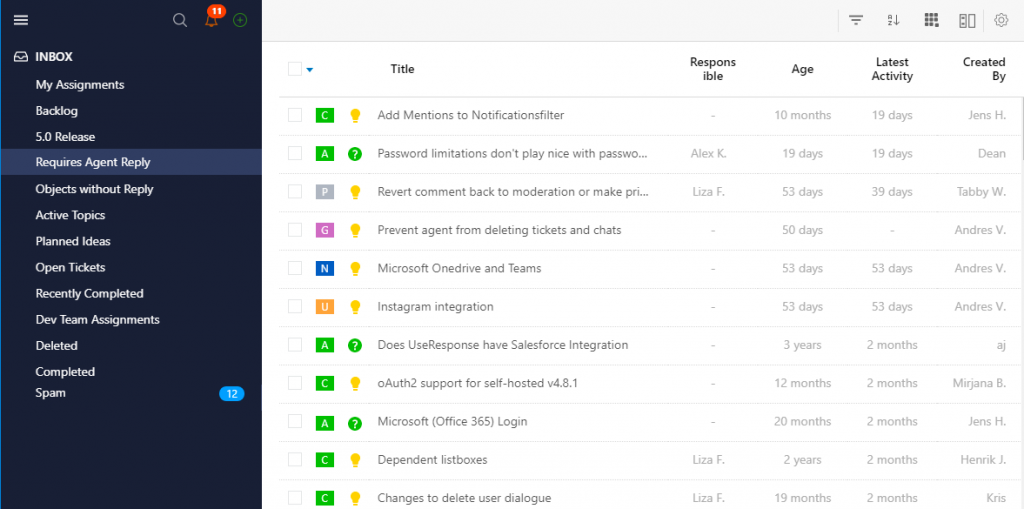 UseResponse allows to gather all the incoming feedback and organize it in one single place.
3. Sort and Analyze
Using the voting system, ideas and suggestions gather votes (sometimes negative voting is enabled), and after some time we can see the ideas gaining popularity. To sort the ideas we use categories and tags. By default, we separate incoming requests by:
All the incoming requests have priorities and statuses. The final decision on whether to implement a particular request or not is taken by the Product Manager.
Depending on the nature of the issue it is sent to a certain department and assigned to a certain employee. The specialist analyzes the request and estimates the required resources.

4. Act on Feedback
After defining the ideas for implementation, it is time to turn insights into action and build the Product Roadmap. At this step, ideas are assigned to certain team members and sorted by priority. 
Negative feedback is usually redirected to Customer Service or Product Development team.
Positive feedback is sent to the Marketing Department to be used on the website and other places as testimonials or a base for Customer Use Cases.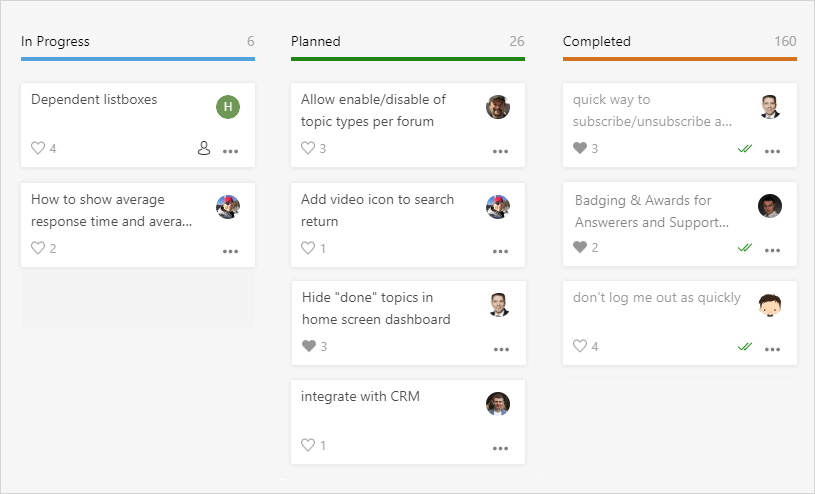 There are some metrics we use to measure feedback loop:
% of requests that got implemented
NSP of feedback requests
$ of renewals due to implementing the feature request
feedback on the new feature implemented
5. Notify Customers and Follow Up
Each feedback is an opportunity to get a new brand promoter. Show your clients that their time and opinions matter, and close the feedback loop.

Developing a system to collect and address customer needs can go a long way toward helping companies reduce customer complaints, uncover opportunities and get more out of the customer relationships. That's why a feedback loop is a key step in the customer engagement process.
Conclusion
Any company can bring innovations and improve by effectively using customer feedback loops, but not all companies organize this cycle using the right tools.
An easy way to close the customer feedback loop is to provide a convenient centralized platform for users to leave their feedback and ask open-ended questions. If you want to receive feedback, you should ask for it. You should also explain how you plan to execute on the insights your clients share.
Public product development roadmaps are a valuable part of transparent feedback loop process. Also, you should always remember to notify your customers that the changes they've asked for have been implemented and the issues resolved.
Only by taking action on customer feedback you will be able to create really customer-centric company, reduce customer churn, get more loyal customers, turn your detractors into promoters, and promoters into company's brand advocates.


---