Customer Feedback Software to Build Better Products
Get feedback, build your roadmap and deliver amazing service with
simple customer feedback software
Get More Ideas with Customer Feedback Portal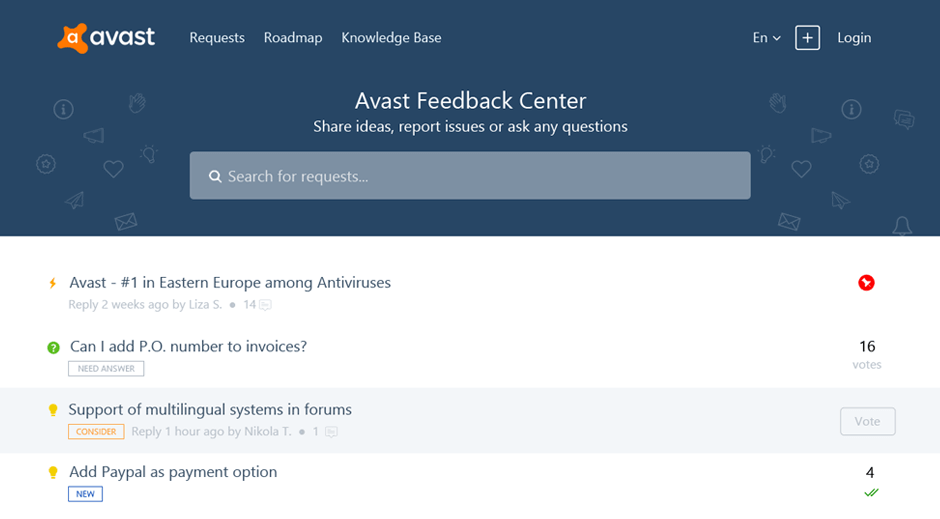 Collaborate in public feedback collection system or create private community for your internal team.
Ability to add several boards for multiple products or languages.
Users don't need to create accounts if you want to accept anonymous ideas and votes.
Make Better Product Decisions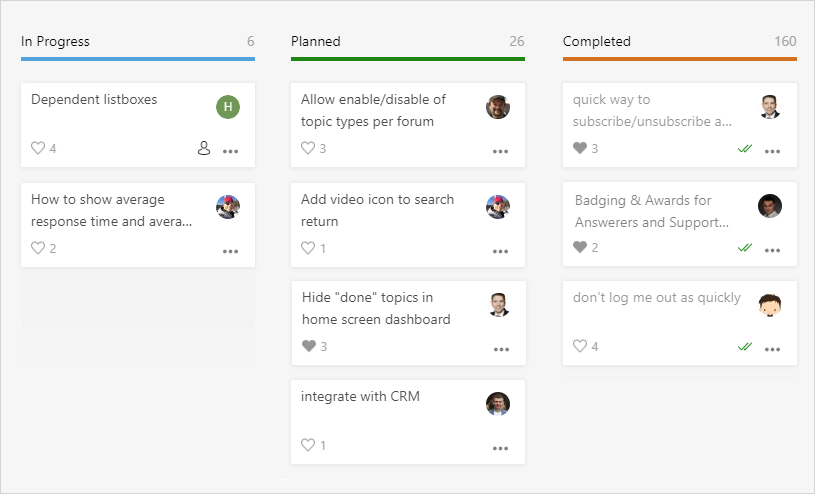 With product roadmap software you can get a complete view of the top suggestions and close the loop with stakeholders on what to do next.
Visible for users or private for your team only (with custom order & grouping options).
Build custom workflow using your own statuses.
Improve Team Productivity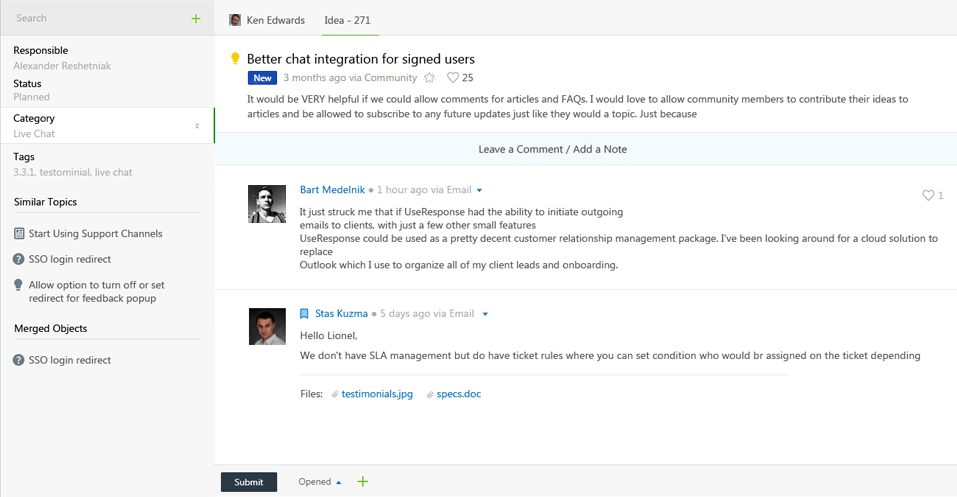 In customer feedback software you can build queues, create filters and assign requests to your team
Review content before it goes live with smart moderation tool.
Get all requests into one funnel - submit topics / votes on customer's behalf.
More Ways to Collect Customer Feedback
Widget can be customized to be embedded on any website or service page.
Users don't need to leave the website.
Votes are left right inside the widget.
Build customer feedback form to collect extra data.
Unified mobile interface allows feedback management and usage on any tablet or phone.
Access feedback instantly using push notifications.
Integrate right in your iOS / Android app with our SDK.
Use integrations to grab feedback from 3rd party tools
Salesforce, Jira, Slack and more.
Using Zapier allows integrations with 100+ services.
Restful API allows building custom apps according to your use case.
Check Pricing
Client Feedback Software
Can Be Different Like Your Business

Feature Requests Solution
Future of your product depends on feature request tracking

Forum Type System
Answer questions and convert them into FAQs with client feedback software

Problems Tracking
Identify pain of your customers interacting with your product or service
Build Successful Customer Engagement
Send new ideas in monthly newsletters and ask customers what should be done next with our smart voting feature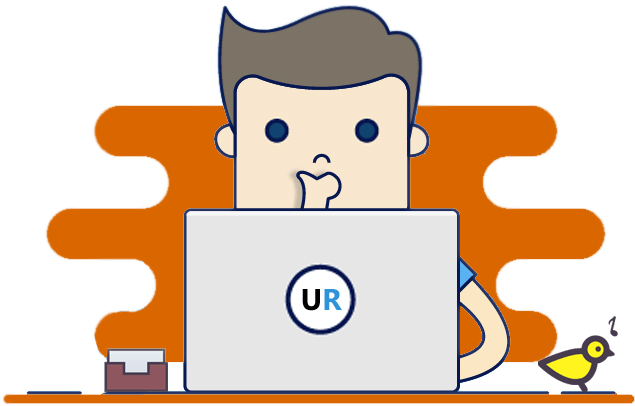 Features for Any Teams & Products

CSAT
Send satisfaction survey to find out how you handled customer requests
Learn More

Conditional Fields
Make sub-categories or build tree-view feedback form to get extra data

Internal Notes
Discuss feature requests internally and set reminders for specific notes
Learn More

Community Lock
Lock one of the portals to stop getting new feedback & votes

Votes Limiter
Limit number of votes per user that can be left during 30 days
Learn More

Multiple Boards
Create several boards to showcase your roadmaps and milestones
Learn More

Single Sign-On
Customers will authorize into portal using accounts from your system
Learn More

SLA
Create several service level agreement profiles to match your quality standards
Learn More

Likeliness
Define probability of new ideas that you get from customers

Deadlines
Set due on dates for each request that you get to match the deadlines

Analytics & Trends
Transparent analytics to see trends and check your team efficiency
Success Stories
"This
idea management software
helps us very well for number of our products. Subscriptions for the topics are cool and generally flexible to collect feedback. Extremely quick and helpful support."