Well-adjusted customer support processes can help you gain customers loyalty and set the tone for the entire customer experience to help you stand out from the competitors.
Customer service team is the first point of contact for customers, and you should empower your agents with the necessary support tools to boost their performance and get the clients' problems solved in no time.
In this article you'll learn about some useful tips that will help your support agents work more efficiently, be more productive and provide high-quality service with the help of UseResponse software.
1. Go Omni-channel
By gathering all feedback and support requests in one system, you enable your support agents to eliminate the need to jump between various platforms and means of communication like email, various social networks, and popular messengers.
In case customers switch the channels, agents have to waste time finding out the issue details, yet they have been already left in a request via another source. As a result, customers may have to repeat the request details twice.
With omnichannel support tool your agents can see all the relevant customer data each time they receive a request.
UseResponse allows you to aggregate all customer conversations via email, ticketing system, website forms, twitter and facebook messages in one single place.

You can also manage all your live chat conversations and communications via popular messengers (Facebook messenger, WhatsApp, WeChat, Line, Telegram, Viber, VK).

Plus in UseResponse you can manage reviews incoming from Google Play Store and Apple App Store.
With the help of UseResponse you can get necessary insights to provide fast, personalized and more contextual support.
2. Automate Repeated Actions
How many times does your support team has to answer the same question? It can be providing typical information regarding the payment process or account cancellation, etc.
Creating canned responses comes in handy here. You can make them available just for one agent or the whole team. When inserting pre-written drafts, you should be able to customize and personalize them.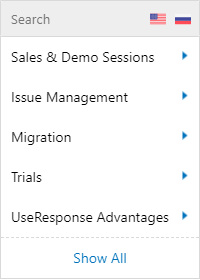 Tip: To quickly find a canned response simply type # and start typing the canned response title. You can also sort out all predefined answers into categories to simplify the search.
Your inbox can be overwhelmed with queries, and support agents' workflow can be impeded. With triggers you can sort messages as they come in. The system will place requests to the relevant category, set priority, assign it to the right specialist or team, tag it, close after some time, and much more.

For instance, a new request can be instantly directed to sales or marketing teams within your company if the subject contains 'Advertising'.
3. Save Agents Time with Chatbots
Chatbot functionality is very powerful and can come in useful in various ways. First, customers can get the answers to simple questions, being smartly guided by a chatbot. But if there is no ready solution, a requester will be directed to the designated person, depending on the options chosen in the chatbot scenario.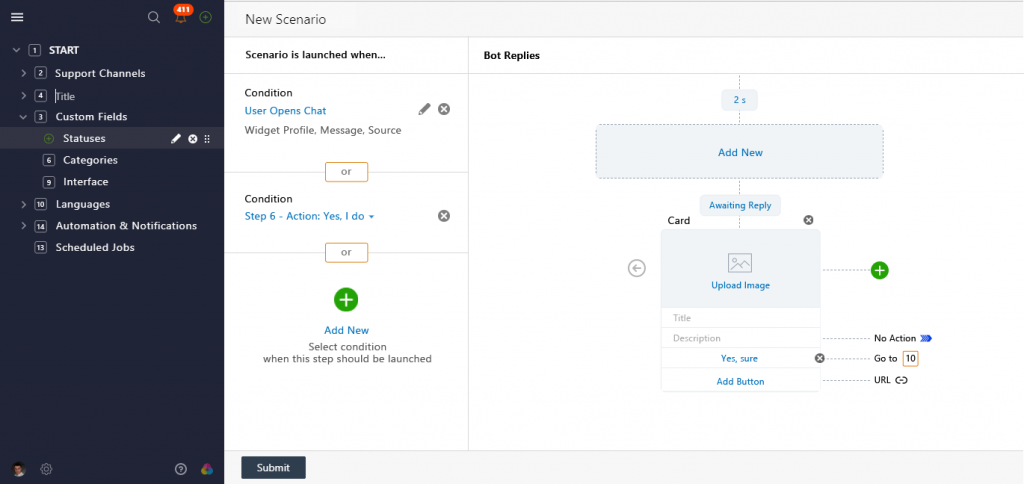 One more advantage is that you save the agent's time for getting the info about the customer and his inquiry. Because when the chat conversation arrives at the system, an agent can quickly grab the details from the chatbot history and not waste time for a standard question-and-answer session with a client.
4. Improve Self-service
Besides chatbots, there are some more ways to provide customer self-service. Compile your comprehensive knowledge base and introduce its content to all the channels where customers can reach you, e.g. embed a widget on your website and mobile app, or incorporate hyperlinks to articles in agents' responses.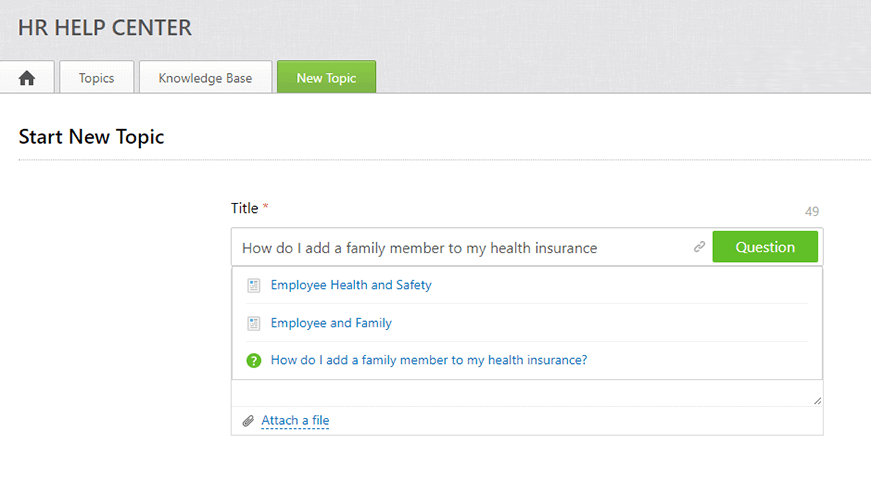 Tip: In UseResponse you can allow your agents to reach out to the list of knowledge base articles with just a combination of Shift+8 buttons. This functionality allows Agents to search for the Knowledge base articles without leaving the ticket or chat window.
Let your customers help each other by building up a community forum. Customers can сommunicate, share their experience, and explain some difficult cases in a simplified way. Plus you get a transparent pool of FAQs where customers can see the questions and requests that have already been resolved before.
5. Organize Ticket Distribution Flows
Do not wait till support managers manually take the ticket to work. Let the system distribute the requests among agents in the team. Set how to do it: one by one, based on agent workload or among the agents who are online.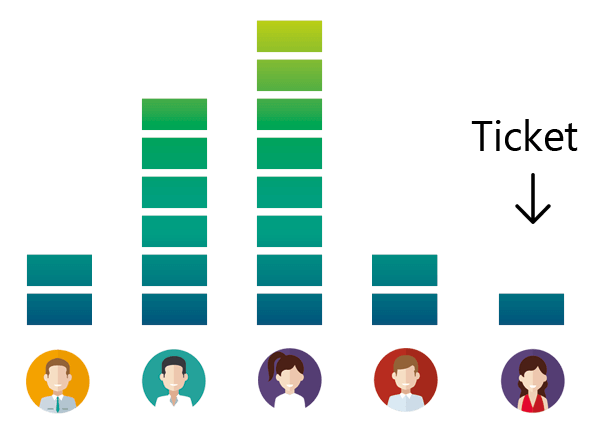 Enabling Smart Assignments, you can choose the type of responsibility allocating in case there are no available specialists. So your agents can accommodate the workload and provide customers with the solution efficiently.
Arrange your agents into teams and set specific permissions to them. You can enable support agents to have access to certain forums. As well, specify what tickets are visible to them. As a result, agents will see only relevant requests and get down to work as soon as possible.
6. Create & Personalize Reports
With the help of reports, you can group objects in logical sets based on the conditions you define. For example, you can put together tickets with high priority or awaiting a reply from a customer more than one day, all chats for the current week, etc. Define also what sorting, grouping, filtering options to apply in the report display. You can put to the list top requests with almost exceeded SLA rules or tasks with due on date expiring soon.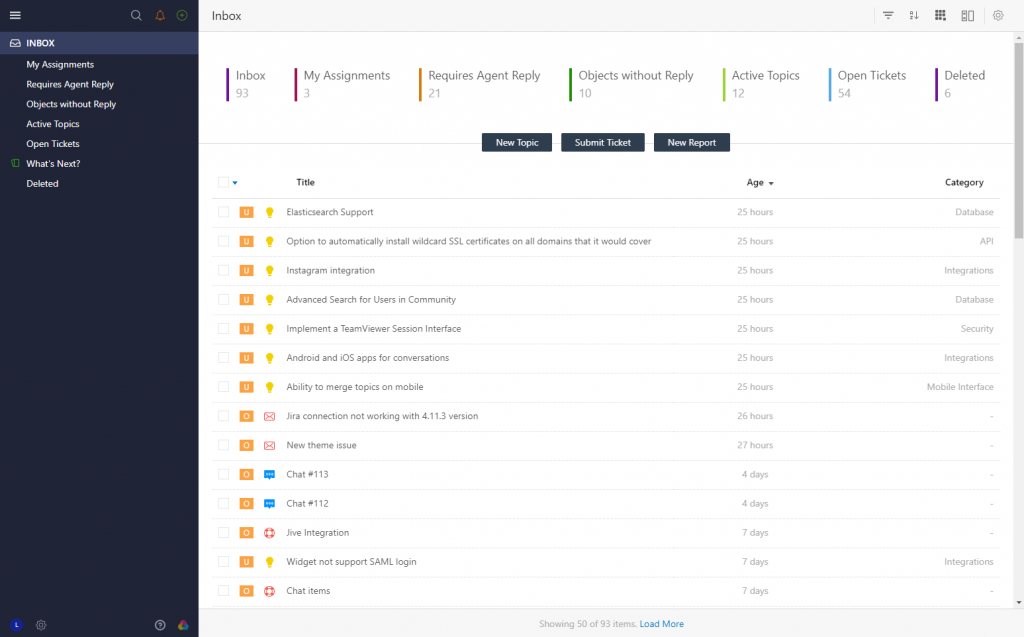 Agents can create personal reports for tickets they want to track or modify default ones. The final report can include custom table columns that provide essential extra information on the object. So your team quickly determine which tickets pay attention to and plan the working day accordingly.
7. Loop in Colleagues
Sometimes you need to leave some private instructions or ask for advice from another agent or supervisor. With internal notes you are able to encourage collaboration among your agents right inside the ticket.
After leaving a note, all agents subscribed to the ticket or idea will get an instant notification to participate in the common discussion. But if you want to send a private message to a certain agent(s) or the whole team, just use @mentions, and no one will be notified except them.
You can also apply mentions:
to remind a colleague on his assignment;
to draw agent's attention to a specific comment or critical user idea in the community, to a specific problem in a chat conversation;
to assign several tasks to different agents within one ticket.
Tip: In UseResponse your agents immediately see whether their teammates are already working on the issue. With lock replies function you will avoid agent collision in simultaneous writing replies in the same request.
8. Monitor Agents Performance
To keep your team productive it's essential to track agents' performance metrics.
In analytics you can find insufficiencies in processes you have in place. The key metrics include first and average reply time, how many agent comments (touches) posted within a day, the number of requests closed at the selected date range, etc. To get a better understanding of customers' experience, you can also measure CSAT and the number of SLA breaches.

Bottom line
The tips above will bring value to the speed of support, reduce the load on agents, and increase productivity.
Supply agents with automation where it is possible. As a result, you will cut the time of getting the request into the right hands and speed up the ticket resolution.
Improve the collaboration in your company through seamless internal communication. Set up the ecosystem of notifications so that nobody misses the assignment, mention by another colleague or even more so the new client message.
As well, spark friendly competition among your staff by assessing your support team performance. Make adjustments to the workflow when some metrics are unsatisfying.
By and large, with UseResponse you can optimize customer self-service, automate the workflows, and enhance team work.