After the long process of feature comparison and checking the trials you have picked up the Help Desk software that perfectly (or almost perfectly) suits all your company's needs.
You've passed through all the meetings approving it, confirmed the budget with the Financial Director, your Security department approved the usage of the cloud version or set up the server for self-hosted one, and finally, all the agreements are signed, and you are ready to go.
Before we begin, we'd like to admit, that setting up a Help Desk is a rare opportunity to change the customer support and service processes and old habits of your support team, but for it to run successfully some preparation work needs to be done.
Why Use Help Desk Software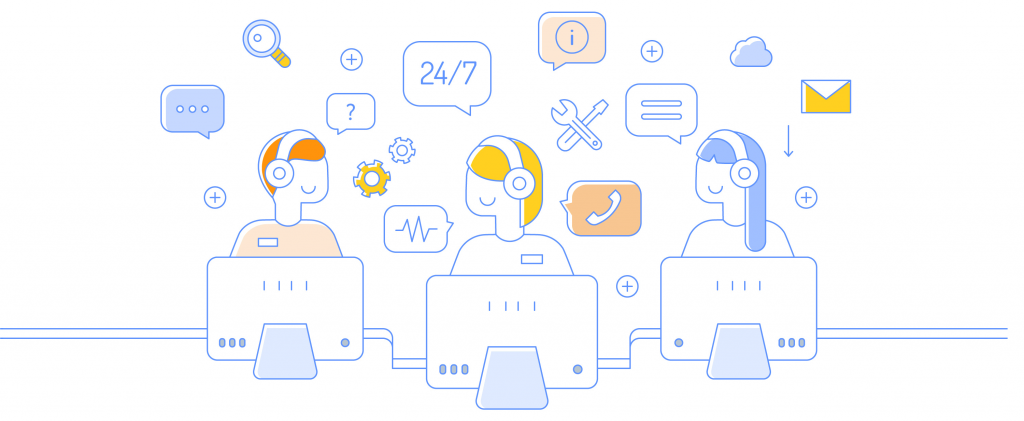 Help Desk Software is a platform that allows the company to keep and manage all the internal and external queries across multiple channels in one single place.
Help Desk and Service Desk software helps to collect, prioritize, distribute, track, and resolve requests in an organized and manageable way.
Setting Up a Help Desk. How To Begin?
No matter if your company has never used a help desk before or you are migrating from one system to another, first of all, you need to make up a list of problems you are trying to solve and make up a list of goals to achieve. Analyze your current customer support channels and common processes, join your support team for a day or at least a couple of hours, be there, see the processes from inside, learn the pain points of your support.
Before the actual set up you should think of the following questions:

What support channels are currently used, what channels could be added/eliminated.
How big is your support team? How many agents do you need? Do you want to differentiate agents by granting some of them extra rights and functions? Do you need to break them into departments?
Does your team manage the load of the phone calls? What is the average waiting time?
How many repetitive questions do you get? How can you organize self-service? Do you have a FAQ or a Knowledge Base? Will customers be able to find the answers themselves, how often do they need the personal assistance of an agent? Think of the processes that can be automated.
Should you organize a community for open communications? Do you need several forums to support multiple products or offer support in different languages? Can agents cover multiple channels or are they specialized?
Do you need a channel for internal team communications and issue resolution?
What software currently used by your company should be integrated with the new Help Desk tool?
At what stages of the customer journey do you need to measure customer satisfaction?
If your service desk is set up and running properly, your team will be able to operate more productively and reduce your overheads, so analyzing your current processes is an essential part of the setup.
Plan Help Desk Deployment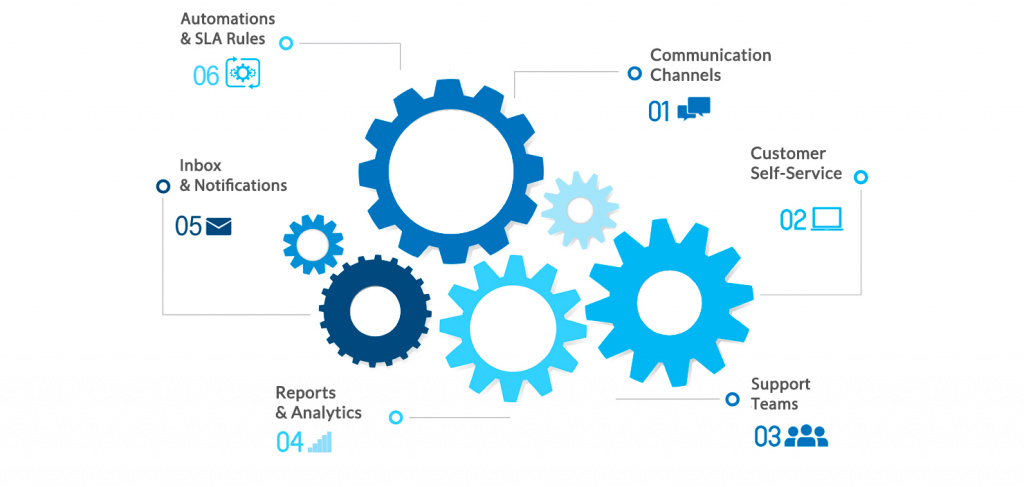 Define Communication Channels
Think of current support processes in your company, what are your most popular support channels. These can be emails, phone, web forms, online chat, social media, community forums, messengers, or some other. Make a list of the channels you currently have and think of support channels you might want to add, e.g. allow users to contact you via messengers they are used to like WhatsApp, FB Messenger, or others.  
Determine User Roles
By default, help desks include such roles as Admin, Support Agents, and Users. Besides these roles, the Admin of the Help desk can create custom roles.
Calculate the number of agents required according to your growth plans. Below is a table Hubspot used in calculating the number of support reps with a simple formula:
Total Support Reps Needed = Total Monthly Tickets/(tickets/rep/month)

In order to automate the processes, you can organize agents into Teams by their functional responsibilities, departments, regions, supported products, or other parameters. This way you can send notifications and reports to certain user groups, or automate the workflow of passing tickets from one department to another.
Organize Self-Service Options
Think of the most popular questions your customers are asking, what phrases and words are they using? Prepare a list of predefined answers. Work on developing extensive FAQs and Knowledge base documentation in order to empower your Support Agents and eliminate the number of questions asked by improving customer self-service.
Create chatbots to cover the most common customer request scenarios and offer proactive customer service.
Another great option to organize self-service for companies with large user bases is to create Community Feedback Portal. This way, you will be able to create the knowledge base of Q&A organically, eliminate repeated questions asked, and enable peer-to-peer collaboration.
Outline and Document the Processes
Think of typical workflows in your company and based on this, make a draft of the internal knowledge base, where you will list all the rules and conditions you create.
Make sure to state how to understand the statuses and priorities of the tickets, what tags to use and when possible email templates and predefined responses created, the workflow of re-assigning and escalating tickets to another department, and other rules. Think of the processes of ticket validation and verification and determine the rules. Outline and document the SLA rules.
Checklist of the Help Desk Setup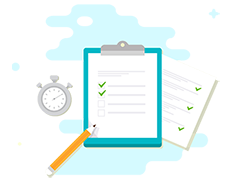 We help businesses set up help desks for their needs almost every day, and have come up with a list of important settings and hints that can save you from further headaches. Check out our helpdesk software setting up checklist not to miss a thing!
1. Communication Channels
Set up the communication channels your customers may use to contact your support team:
Mailbox – connect your support mailbox used for creating tickets, sending notifications in the system, and posting replies to tickets;
Service Portal – set up a dedicated web source where customers may fill out the contact form or find the answers on their own, personalize your portal;
Knowledge Base – organize the documentation to cover all the aspects of usage of your product at various stages of the customer journey, and create FAQs.
Community – if you have a large database of users you should think of using communities as another source of customer self-service and enabling peer-to-peer collaboration.
Live Chat – integrate chat widget code to your website to deliver instant support. Connect the most popular messengers in the chat widget (FB Messenger, Line, WhatsApp, Telegram, etc.);
Social Media. Integrate Facebook and Twitter into your support system to be able to receive requests in a form of tickets.
Other channels such as contact form widgets, app reviews, API, etc.
2. Basic Settings and Workflow
Build contact form with additional fields;
Determine tickets approval and verification workflows using a predefined list of statuses or adding custom ones;
Customize default email templates and set up email forwarding.
Set up notifications to be sent.
Determine SLA rules;
Configure Business Hours during which your Support Agents will be available;
3. Tickets Management
Create Reports to be shared with the whole team or certain team members;
Manage the ticket distribution processes and queues using Smart Assignments
4. Automations
Set up Automation rules to send auto-replies in chat, organize automatic notifications, subscriptions, assignments, and much more using triggers and macros;
Create Canned Responses your team can use as templates in chats and messages;
Set up Chatbots scenarios to cover popular customer journey steps and provide instant answers to popular questions.
5. Team Management
Add Support Agents;
Import the list of current clients using the built-in import tool;
Organize agents by Departments using Teams (Sales, Support, Marketing, etc.)
6. Advanced Settings
Configure Single Sign-On to integrate your website or app login form;
Enable Customer Satisfaction Rating to identify whether your clients are satisfied with the ticket resolution;
Integrate Help Desk software with other 3d-party applications using ready-made integrations or API. Test the connections.
7. Preparing for Launch
Create Internal Knowledge Base (company wiki) for your Support Agents to explain the system rules and
Onboard and Train your team
Perform testing of the system with your team
Test Integrations
Launch
Of course, the service desk setup process can vary depending on a custom use case, but overall these are the most common steps that work for any type of company.
See Help Desk Software in Action
If configured the right way, the help desk serves as a helpful tool, but not just remains as a record in the list of the company's software expenses.
If you need assistance in setting up your help desk or want a quick guide on how the system works, please send your request to support@useresponse.com
Try UseResponse Service Desk Software