Best Choice in Trouble Ticket System
Keeping pace with the incoming requests and maintaining agility are usually core components of high-quality customer service. Solving troubles can be flawless with UseResponse trouble ticket system.
What is Trouble Ticket System?
Ticketing or help desk software is frequently referred to as a trouble ticket system as customers appeal to such kind of software to solve the troubles arising on their road. Our software handles these troubles in appropriate and timely manner. Quick and qualitative client service has always been a guaranteed path to increase your customer base and lay the groundwork for the long-term relationships. With the help of our trouble ticket software you will improve the quality of your customer service by simplifying the work with incoming tickets and streamlining clients' conversations. Grab the chance to fully satisfy the demand of both sides.
Even Simple Trouble Ticket System Should Include

Real-Time Notifications
Provide your agents with the opportunity to be always aware of the incoming requests. Every support agent could easily choose the most comfortable variant of notifications as the system makes it possible to be informed in a number of different ways: - On-page system and browser push notifications; - Email notifications; - Notifications available from API and ready-made integrations.

Assignment Automation Rules
Assignment automation tool is your special helper created to do the manual work of allocating a ticket to a proper person without your participation. Sorting all the requests could be really tedious and time-consuming. Just configure the automation rules once and thousands of man-hours will be saved.

Self-Service Knowledge Base
No need to deal with ticket clogs anymore. The vast majority of client's problems could be resolved even before they manage to fill the ticket request. The integration of knowledge base into your trouble ticket management system is the best way to save your and your customer's time. It's a win-win situation. Here is how it works: fill your knowledge base with informative articles and FAQs, configure the integration with your trouble ticketing system - and knowledge base would provide your customers with a self-service option without involving your team.

Trouble Ticketing Workflows
Arrange trouble ticket workflows by merging similar tickets, cloning already existing tickets, and breaking large tickets into smaller tasks. Escalate tickets by changing priority, use auto-assignments and create custom statuses to match your workflow.
Multiple Ways to Submit a Request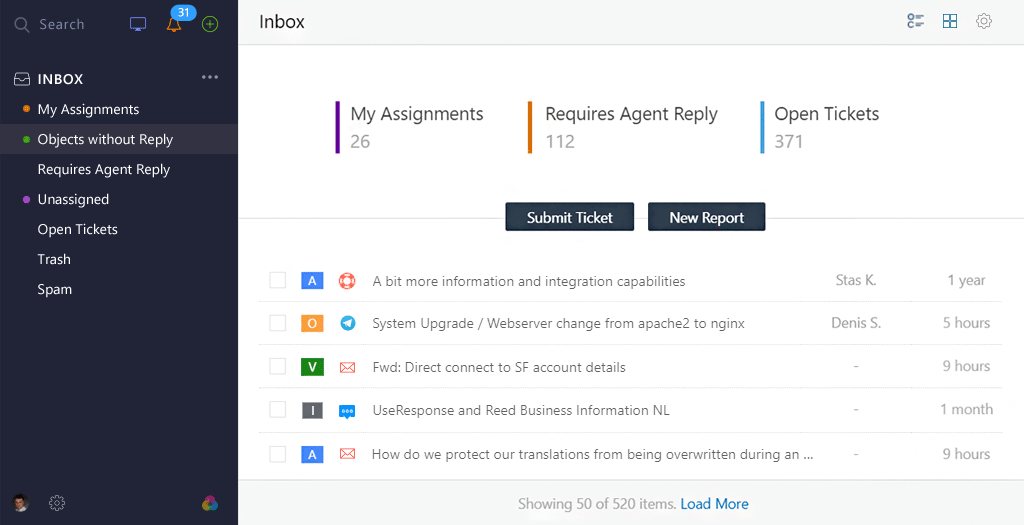 Provide your customers with comfort without wasting your time. Our software is your opportunity to embrace channel diversity as it enables you to collect all the requests from different channels in one place.
We offer you multi-channel support via email, widgets, API, social media and messengers. All the customers would be pleased to use their favourite channel for solving their issues. All the agents will appreciate their chance to sort out customers' problems fast and effectively.
CSAT Surveys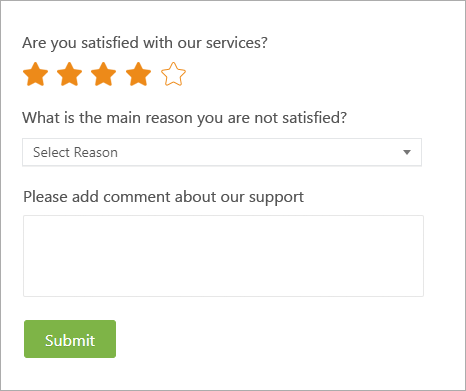 Give your clients the possibility to rate the quality of ticket resolutions. Insights acquired from our trouble ticket software is your ground to increase customer loyalty by monitoring and improving the workflow of your support team.
Advanced Analytics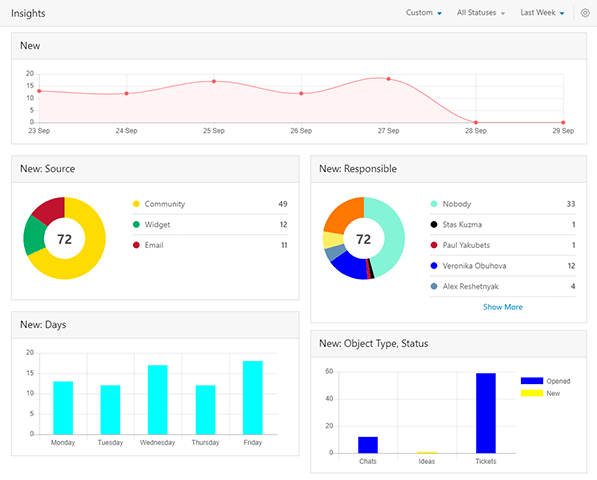 Use our advanced analytics tools like insights, dashboards and custom reports to identify and remove the weak points of your support. Improve relationships with your customers by making better decisions with the help of the acquired insights.
Questions?
Let us explain everything in person during a quick call
What Our Customers Say
"Customer community visibility of ideas and issues is the key problem we solved. Previously these were all dealt with, but were invisible to customer, leading to dissatification. Configurable, extendable and functionality growing all the time system. Great support. Value for money compared to competitors if off the chart. Plus on-premises option was vital for us."
Trusted by 1000+ companies






Get 14-day Free Trial
of UseResponse Troube Ticket System