Best UserVoice Alternative
you can find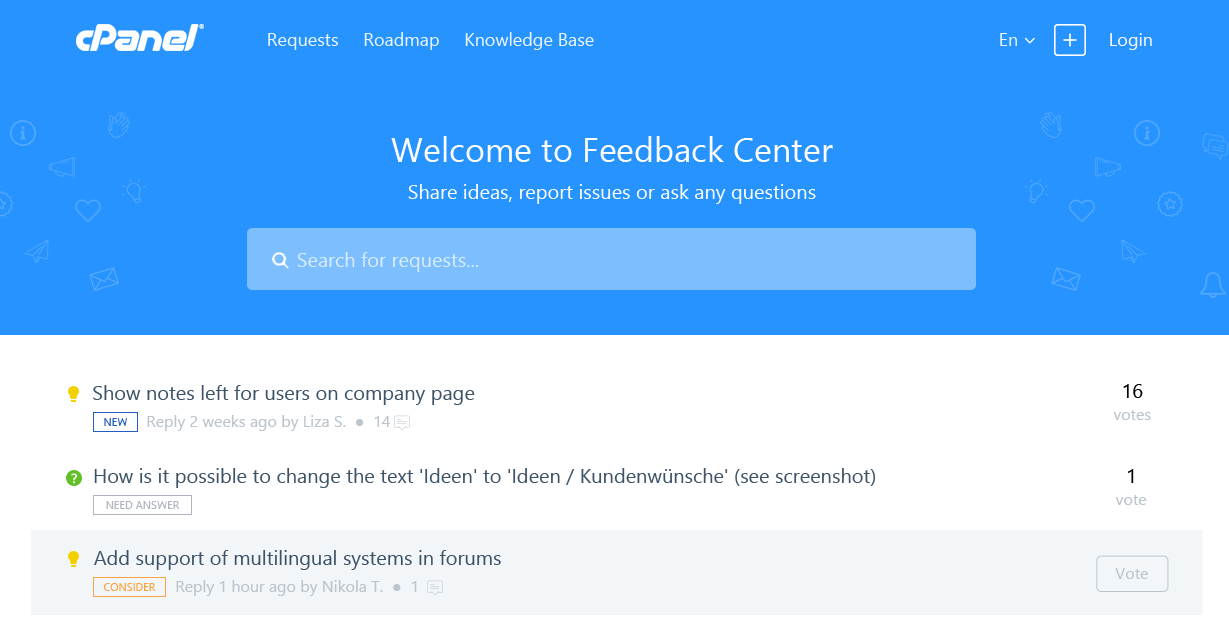 UseResponse is simple, yet powerful alternative to UserVoice that will help you build better products and get more loyal customers
Try Now
14-day free trial. No credit card required
Why Companies Choose UseResponse vs UserVoice
The main goal of UseResponse is to provide companies with a powerful product feedback management software that will allow them to listen to the voice of their customers in order to analyze and get useful insights for further product development. Some clients call our product an "affordable Uservoice alternative". Below are key features that make us #1 alternative to UserVoice on the market:
Request a Demo

Import Your Data
If you are currently using UserVoice or another Product Feedback Software, we would be glad to help you migrate your data with no extra fee.
Get More with UserVoice Alternative
Take full control over your system and extend it with extra channels including widgets that makes us best UserVoice alternative on the market

Cloud / On-Premise Packages
Our solution has both cloud and self-hosted package which is helpful for strict data storage requirements or custom development use cases

All-in-One Support Suite
Feedback portal by UseResponse is a part of customer experience ecosystem along with Live Chat, Help Desk and Knowledge Base tools that empower your feedback community portal

Reasonable Pricing for Any Business
We have created plans that perfectly fit the needs of any businesses from small to enterprise-sized companies with prices starting from $149/month

Easy to Try & Configure
Create a 14-day trial where you can configure your Idea Management system in a couple of minutes. Fully customizable interface and clear setup process.

Powerful Feedback Tool
UseResponse provides basic functionality as UserVoice does, plus some features like public roadmaps and feedback type differentiation that are missing in UserVoice.

We Hear Our Customers
Our support team is responsive, fast, and is always happy to help. If you do need a hand to get started, please feel free to contact us. We offer free installation and consultations.
What our customers say
"I tested a number of popular/leading competing services and found UseResponse to be the most comprehensive alternative especially to UserVoice with the easy UI and the right price"
Trusted by 1000+ companies








Available On All Devices