The decision-making process in product development has always ended up in the hands of the product manager. But collecting and managing feature requests and feedback from customers is the process every company has to deal with and most teams understand that it's impossible to make customer-centric products without knowing what customers really need. But how to avoid the waste of development hours on developing the things that will not be used and keep the user's opinion in the spotlight? In this article, we've analyzed the most commonly used practices and gathered useful tips for effective feature request management.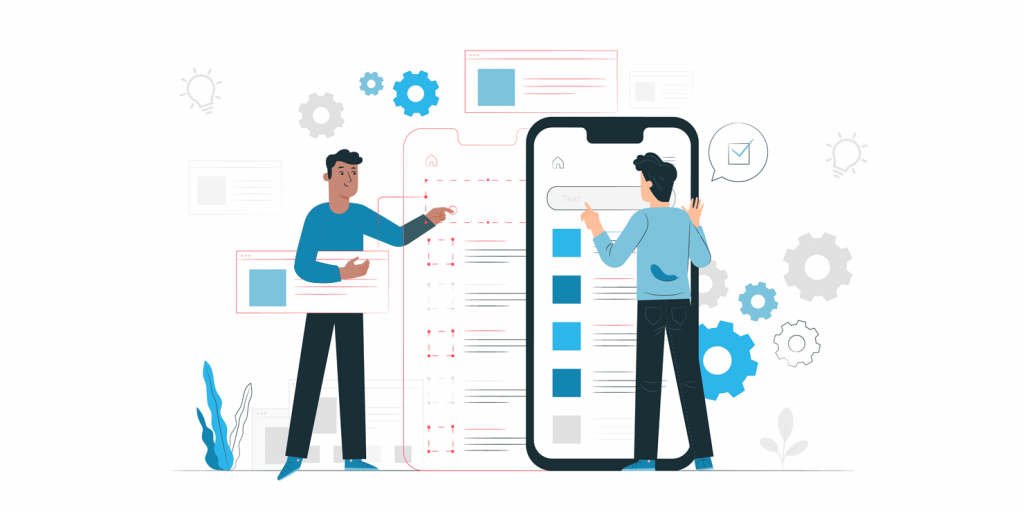 Product Development Challenges
Staying customer-focused is obviously easier said than done. Product development teams lose track of time trying to manage all feature requests and turn them into useful insights. But what are the most common difficulties faced by SaaS product development teams?
The variety of feature request sources and the high volume of incoming feedback. Some suggestions end up lost, some are stored in the backlog never to be recalled and handed over to the development team.
Difficulty to reach out to the customers who have made product feature requests. It means that if sent out in brief, the suggestion can't be supplemented as significant details have been omitted and there's no easy way to ask. Also, it's hard to prioritize the issues as there are no important details about the customer, such as Plan or MRR.
Even if the request was taken into consideration and the feature was added to the product, there's no easy way to inform the customer that his request has been heard.
At some point, the more objective user requests – the better. But how to line them up in order of significance?
And above that, there's another substantial issue. Customers' feature requests should focus on the simple explanations of user problems, not on the feature request itself.
It's not the consumers' job to know what they want.

Steve Jobs, co-founder of Apple.
It's not the customers' responsibility to tell you what to build, it's the responsibility of the product manager to find out what are the problems and needs of the customers, and discuss with the development team how to best solve these problems.
Tracking Feature Requests
A huge amount of feedback and feature requests is usually coming from support channels. Companies also get feature requests via social media, forums, contact forms, blog comments, emails, or from colleagues. These feature requests may come as bug reports, feature improvements, or new feature ideas. You might track them on different steps of your funnel – from sales and support to project management. The challenge is not to lose track and transform feature requests into powerful insights that have the potential to make customer-centric product decisions.
"We will take user feedback any way we can get it. In the app [Slack], we include a command that people can use to send us feedback. We have a help button that people can use to submit support tickets, we've got eyes all over Twitter for comments good and bad.

Whatever form it takes, incoming user feedback must be processed, stored, and studied."

Butterfield, Slack Founder
You might think that creating a web page with a feedback form would work. In fact, feature request tracking should have a much more complex approach to be effective. Below are the most commonly used examples of feature request management practices:
1. Spreadsheets
Quite often, small and mid-sized companies use spreadsheets to manually keep track and manage the incoming feature requests. Sometimes Google Spreadsheets are coupled with Google Forms to get more detailed feedback..

The major drawback with spreadsheets is that feature requests should be manually sorted by type and frequency to avoid duplication, which makes tables unsuitable for heavier feedback flow management.
If managing feature requests in spreadsheets make sure to explain every team member how to use document:
Constantly monitor to ensure team members don't add duplicate requests
Encourage team members to add feature requests as separate entries if the request includes more than one suggestion
2. Trello Boards for Feature Requests Management
Another feature request tracking solution for small companies can be Trello boards – private and public.
Private Customer Feature Requests Trello Boards
Create a private board and invite team members who have to deal with customer feature requests to add requests to the board
Create boards under different categories: all feature requests, high priority, low priority, under consideration, in process, completed, requests from enterprise customers, etc.
Set up and document the rules for the team to manage the cards in a consistent way
The trick is to capture all the incoming multiple requests a company gets via various sources and manually drop them straight to the Trello feature requests board. Then they're distributed through various columns (categories) by type or workflow, etc. The main point is to create a process where the team interacts on the requests.
When creating a new card for the request you should capture details such as the direct quote of the request, customer and the company name, and any other details such as feature request source (live chat, email, Jira, etc).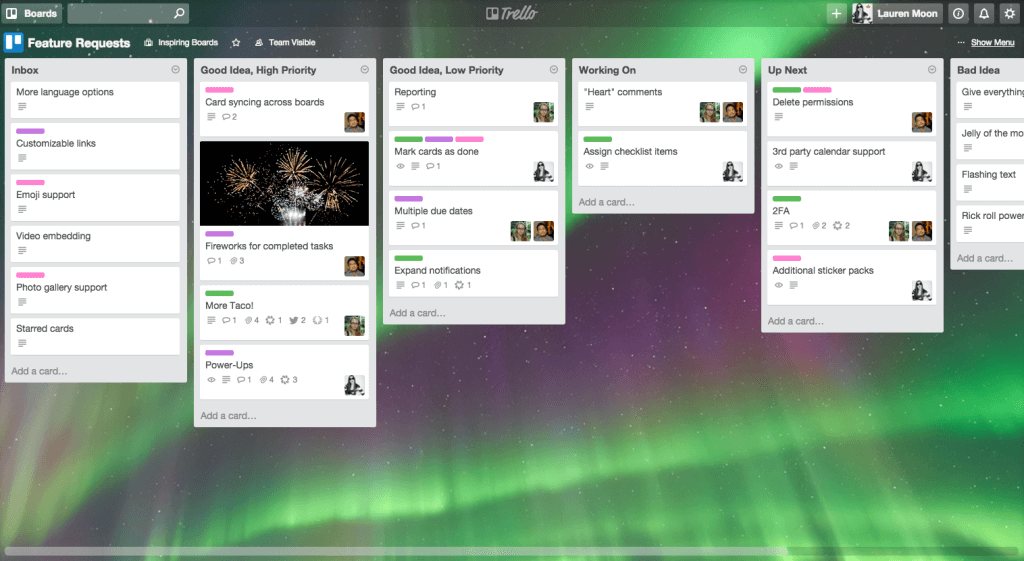 Public Customer Feature Requests Trello Boards
Create a public Trello board visible to your customers and team and enable a voting feature
Organize categories (gathering votes, planned, in development, under review, declined, completed, etc.)
Allow customers to view and submit cards directly
Constantly monitor and moderate to avoid spam and duplicates
Trello allows teams to organize feature requests in a centralized and actionable way, but it may be difficult to keep all the customers updated on the development of certain features and avoid mess with growing number of incoming requests. Check this article on how Trello feature request boards can work as a communication bridge between Sales or Support Teams and the Development Team.
"Before using UseResponse we tried to manage our customer feedback in Trello. That was quite painful because it was mostly manual, and we could forget to move the feedback over, and moving it back and forth took a lot of time. Plus feedback was hard to categorize, segment, sometimes duplicate, and searching through the feedback was quite painful, plus we couldn't close the loop with customers and update everyone involved.

With UseResponse, collecting, categorizing and managing feedback is easy and fast. It's convenient to pull up UseResponse boards in our Product meeting to show what customers care about. It's also takes minimum effort to notify the customers that we built their features, and keep everyone updated on what we are working on using Public Roadmaps. We now have the feedback system we can rely on."

Alan D.

Customer Success Manager
3. Github Discussions
If you're working on an open-source project, there's a great space for feature request management such as Github discussions, where both users and developers can exchange ideas about the project changes.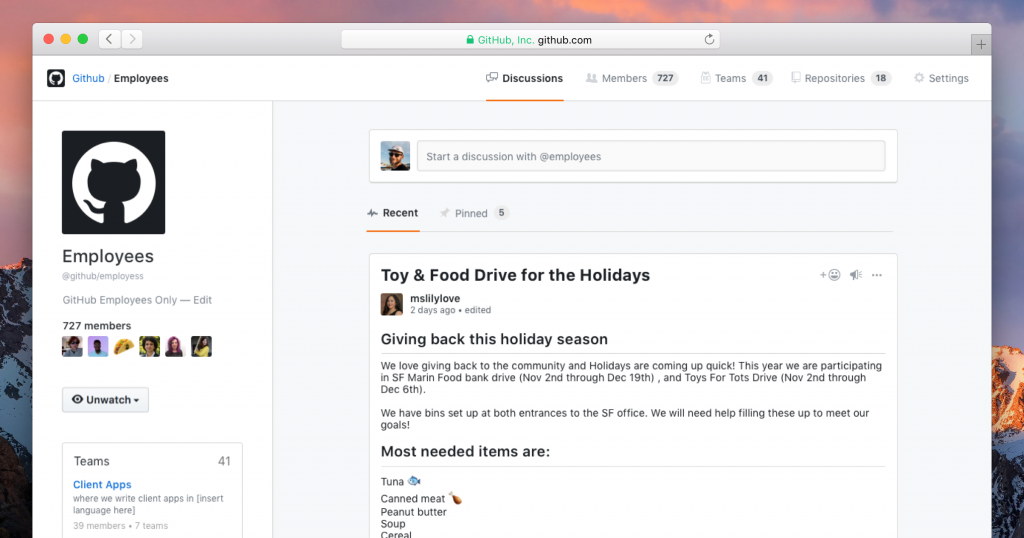 Using Github discussions for collecting feature requests is quite efficient at some point as customer suggestions are posted at the same place where the development team builds the project development roadmap.
4. Manage Feature Requests in Jira
Issue tracking systems like Jira can't be called universal soldiers in terms of collecting and managing all the feature requests in one place. Though, they're a great option for collecting feature requests, specifically for bug tracking.
With the help of Jira you can:
Create a separate project for ideas and feature requests (Scrum project would work fine here)
View and manage feature requests on the Board
Group feature requests with the help of Epics. These can be different products, or parts of customer journey, etc.
Collect customer feature requests added by team members
Create feature requests and vote on behalf of customers
Use labels to mark the requests in addition to Epics, these can be Customer name, Priority, Complexity, etc.
Move the request to the development project, or clone the existing request and move a copy to the development project.
This is just a sample flow of how you can organize feature request management in Jira. As another option, you can create a separate epic in your existing development Scrum project:

Issue tracking systems allow development teams to create request categories, but the public voting feature isn't included as well as request duplication remover when comparing to specialized feature request management software.
Jira can be used for tracking features from your team, though creating public boards or projects, may cause getting lots of spam.
If you are used to manage your development projects in Jira, you can integrate it with feature tracking software with ready-made integrations.
5. Feature Request Tracking Software
Although feedback forms, spreadsheets, and Trello boards might be a good solution for tracking and gathering product feature requests at some point, they don't encourage customer-developer collaboration when it comes to discussing and implementing what users really need.
As the customer base expands and the product functionality is growing, leveraging the feature request management techniques mentioned above is not enough and a company needs a feature request management system that scales with the product growth.
Feature request tracking software, like UseResponse can be a great helper in making the right product development decisions and managing the complete A.C.F.A. feedback loop at scale.
A good feature request software should help you to:
Collect feedback in a single place
Organize and categorize the feature requests (by type, products, releases, etc.)
Analyze and prioritize the feature requests
Communicate directly with the customers who left the feedback
Communicate the process of development with the team
Keep the changelog and publish Product Development Roadmap (optional)
Constantly keep customers in the loop by updating feature statuses.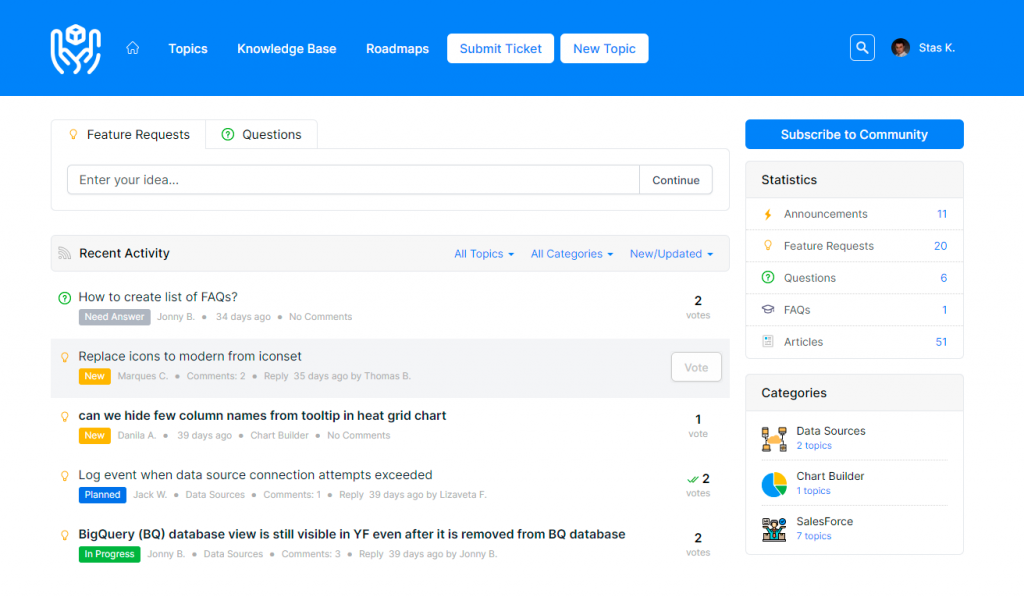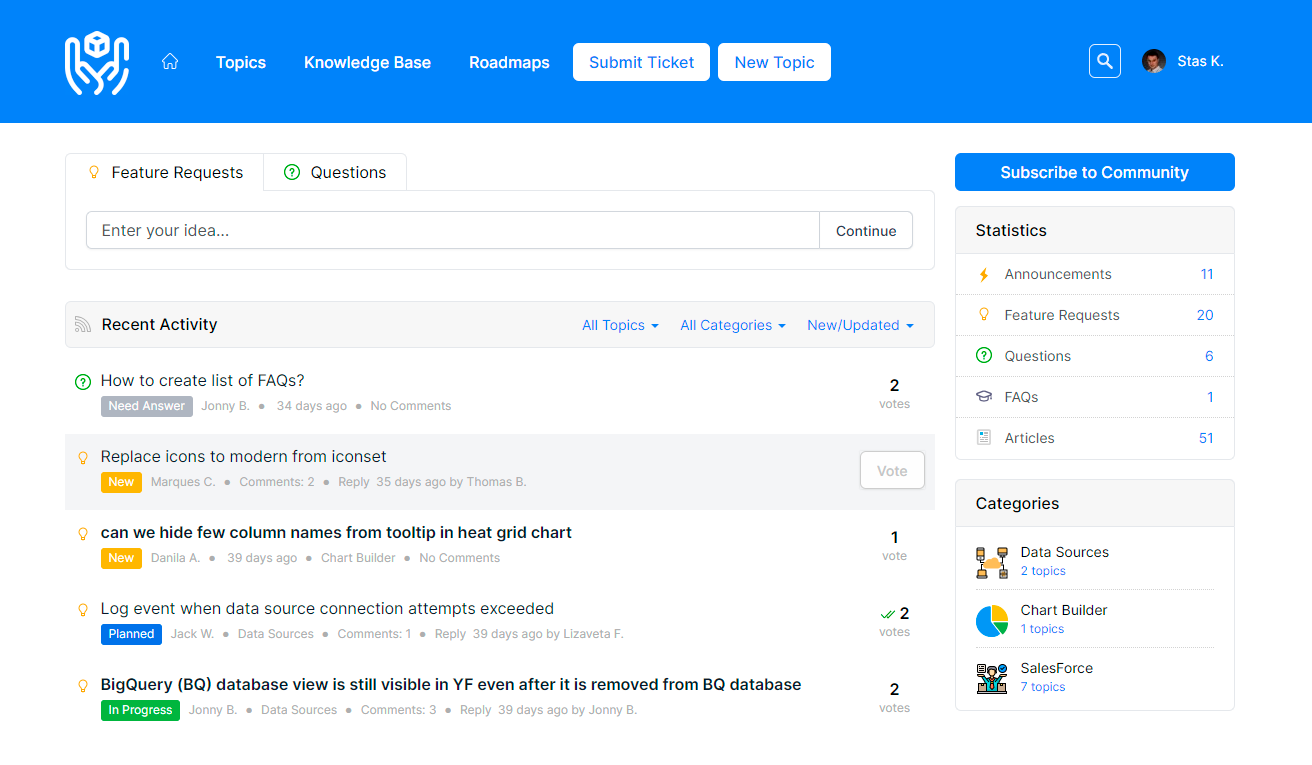 Feature request tracking software has an impressive list of advantages:
Developers can take a look at the product from the user's perspective, getting insights for future improvements.
Feature request tracking tools allow feature requests voting and ranking to understand which of them is most requested.
Feature prioritization gives a clear picture for most wanted features and provides insights for creating a beneficial product roadmap.
Feature request management systems make customers feel appreciated by providing feedback even if their feature request was not implemented.
You get to know all the alternative uses of the product your customers have come up with. This can give you a bunch of fresh marketing ideas.
Feature Requests Implementation Planning
As soon as the support team starts getting feature suggestions comes a question of how to react to these requests. It's impossible to please everyone, otherwise, you're likely to lose the product's core values. The most sensible way to pick up feature requests for implementation is to set feature evaluation system to be guided by.
Evaluation of feature requests goes in hand with feature request prioritization. To decide if a suggestion is worth being implemented, try to figure out WHY the user needs this particular improvement, and answer the questions below, that cover 4 major points to consider:
What is the cost of development? Cost is the primary factor affecting the feature choice. The price tag depends on time, difficulty, and initial software adjustments.
What are the benefits of the new feature? This is a two-way question. What will happen if you ignore building a particular feature, will your high-value customers stay? Or if you don't, will it again affect the key-users or the software performance in general?
How urgent is it?. How badly do your customers need a particular feature? Do your competitors already offer it?
Is it of high demand? How many customers are requesting this feature? What do your stakeholders have to say? How many customers will take advantage of this feature? Will it add additional value to your product or improve usability?
Despite the fact that users have a clear vision of what they want, the development team sees the product at the core and at times can make more optimal decisions and decide which request will go first and which will be declined.
Product Roadmap Development
A product development roadmap brings a clear vision of the product development process for any SaaS project, large or small. It outlines the strategy, main and side ideas, release dates, new features implementation plan.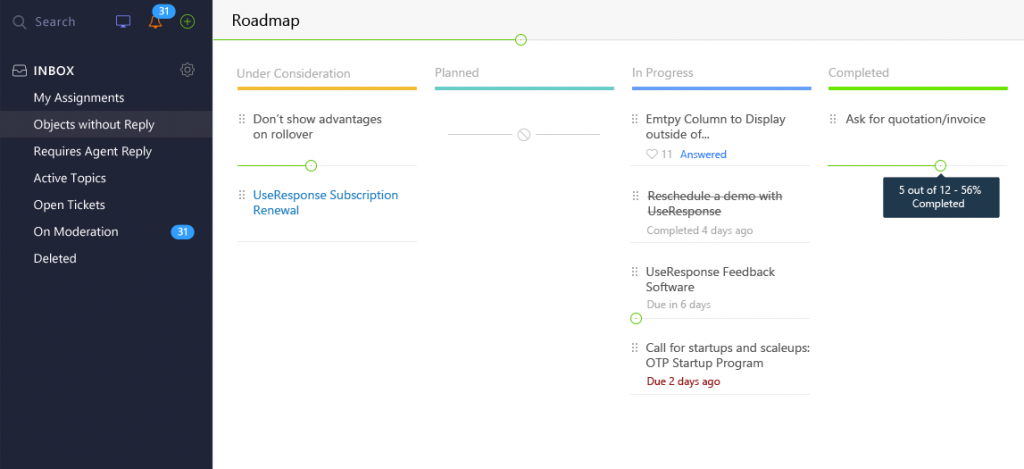 Overall steps toward the roadmap building include wise feedback gathering, reaching out to users for detalization, separating and prioritizing the 3 types of requests (bugs, existing features improvement, new features), and finally putting together the roadmap.
Following-Up on Feature Requests
For customers, a word from the support team means that people behind the screen take their ideas into consideration, so customers should always be kept in the loop.
As a rule, requests are left by those who care, so every request, no matter if you plan to implement it or not, deserves a personalized answer and further brief feature updates. Another word of gratitude costs nothing but makes a big deal in terms of user-company connection.
The Bottom Line
Usually a SaaS gets a way more requests than it can implement. With tons of incoming feedback, the hardest thing is to collect all the information and systematize it. When the requests are structured and organized, the next step is to move on to analyze and see what features are highly demanded by users. Here comes a responsible process of prioritization, when determining if a feature is nice to have or a must-have. Without a proper feature request tracking system it will be challenging to keep track of feedback and sort it out. However, your commitment to manage feature requests in timely and consistent way matters no less than the feature request management system you end up using.
Manage Feature Requests with UseResponse – Try for Free
UseResponse Feedback Platform is designed to help product managers to collect feature requests at scale, organize actionable process of ideation and feature request management, make product development process scalable and embrace customer-centric product development practices.
Try it for free during 14 days, or book online demo.