Enterprise Help Desk Software
Available in SaaS & On-Premise
Address scale and complexity of the incoming requests without compromising support productivity or customer satisfaction








UseResponse Enterprise Help Desk all-in-one platform is designed to organize support and self-service across multiple channels, both for customers and employees. It helps to adress the key support challenges of large enterprise and rapidly growing companies.
With the help of enterprise help desk software companies can manage high loads of requests and make all the communications efficient, relevant, and personal. Empower your support agents with powerful tools for interaction, collaboration and automation.
Enterprise Helpdesk That is Customizable and Scalable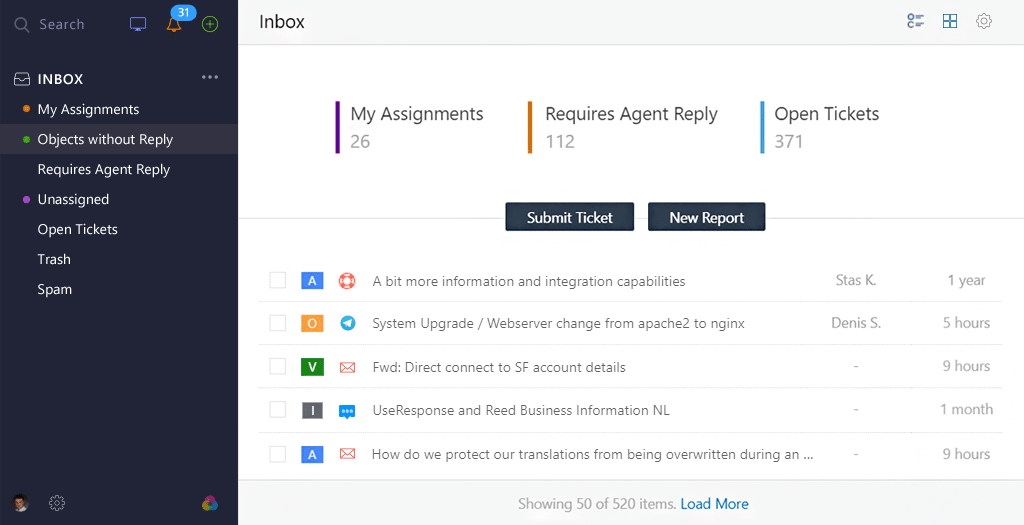 Growing businesses should have an ability to easily adjust and change the flows of their enterprise help desk software in order to address the changing needs. This is the main reason why enterprise companies need a help desk system that has flexible settings, can easily be customized and adjusted to any business requirements.
Besides flexible customization of interface (branding + CSS/Javascript editing ability), UseResponse software supports multiblanding, categorization, teams management, custom ticket statuses and fields, as well as multiple languages with the ability to add new translations.
Empower Self-Service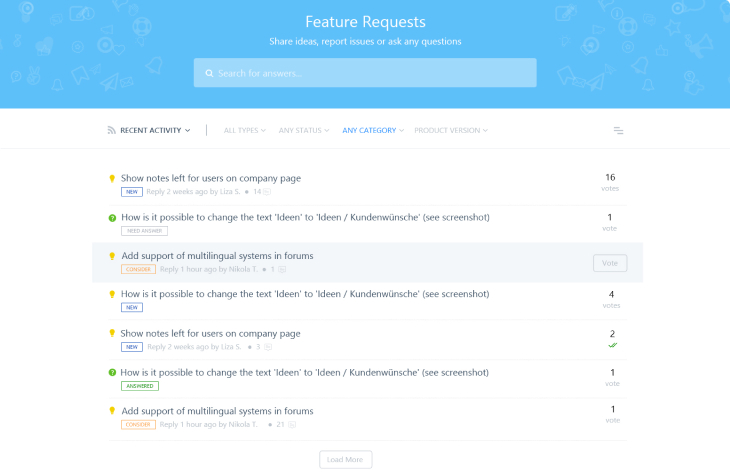 Reduce the load on your support agents and
HR department
by offering seamless self-service experience for your customers and employees.
UseResponse help desk for enterprise offers full stack of instruments allowing to organize self-service and help users find the answers and resolve the issues on their own, without requiring any direct interaction with a company representative:
Smart Tickets Distribution & Advanced Analytics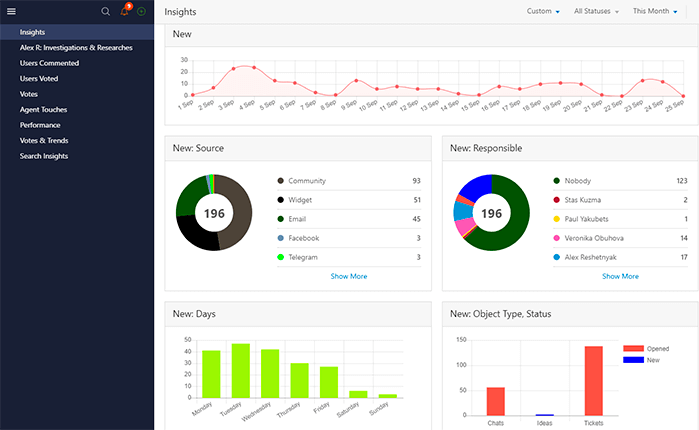 Convert customer emails, requests via web forms, social networks into tickets with the help of specialized Enterprise ticketing software. Manage all communications from various messengers (Facebook Messenger, WhatsApp, WeChat, Line, Telegram, Viber, etc.) in a signle dashboard.
Let Managers and the system automation prioritize, categorize, tag and assign tickets to certain Agents or Teams always meeting the SLA rules.
Why UseResponse Enterprise Help Desk Software?

Full Customization
Interface customization and workflow management + Custom Development

Migration Support
Get free assistance when migrating your data from another enterprise help desk

Third-Party Integrations
Unify your enterprise helpdesk connecting to the tools you already use

Enterprise Help Desk Features
Must-have features of Help Desk Software Optimized for Enterprise:
Omnichannel Communications
Use a single enterprise help desk tool to provide support on all the channels to help your team have a complete context of the customer's issue.
Single Sign-On (SAML, ADFS, LDAP)
Use either LDAP, SAML or specific instructions for SAML with ADFS to authenticate your company native user accounts.
Tickets Visibility & Distribution
Distribute visibility of tickets among your teams, company divisions, departments or your company workflow and setup automation rules based on which, these teams would handle the tickets.
SLA rules help you prioritize one customer over others by providing him better first reply and resolution time and set your support agents targets on ticket resolution rules.
Enterprise help desk allows to automate routine tasks such as sending auto replies, assigning responsible, following up on tickets and other operations.
Provide powerful tools for collaboration: organize ideation communities, allow agents to add private notes and comments, set alerts, create small tasks for tickets and more.
Set up multiple, localized, easy-to-use web portals to deliver personalized user experience.
Advanced reporting capabilities with ability to create custom reports helps to evaluate the effectiveness and find the areas for improvement.
+ Product Training, Premium Support , Custom Addons and more features
Not sure if our enterprise help desk can cover your use case?
Our tool is very flexible and customizable, and we also do custom development if needed. Please feel free to contact us if you have any questions or need help with migration from another help desk.
Contact Us
Cloud or Self-Hosted
Enterprise Helpdesk Installation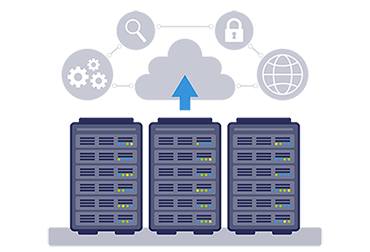 In case you have specific data storage and security requirements, want to make backups locally or operate offline, we do offer you a
Self-Hosted Enterprise Helpdesk Package
. You get 100% open-source code with restful API that can be installed on your servers and customized according to your needs. In case you prefer to store your data on cloud, try using SaaS option.
Frequently Asked Questions
What is enterprise help desk software?
Enterprise help desk software stands for a single point of contact designed to provide customers or employees with centralized information and support management system to handle company's internal and external queries that are related to company's products, services and processes. The main purpose of the enterprise help desk is to provide resources to answer the questions, troubleshoot issues, and streamline solutions to known problems. Instruments of enterprise help desk software enable companies to resolve customers issues faster and improve support efficiency by automating the processes of ticket management and providing options for customer self-service. Automations of enterprise help desk software also help to ensure that the workload of the support team remains balanced, and ensures that the enterprise help desk tickets end up according to the right skills of support agent at the right time. Besides managing customer requests, enterprise help desk software can be used to organize employee self-service in order to help better onboard new employees, share knowledge, organize centralized communications and solve the internal issues in an organized way.
Enterprise help desk software can also help to create a community forum (both public or internal), so users can ask and answer questions, report issues and discuss ideas. Enterprise help desk software provides flexible, customizable and scalable support instruments specifically designed for growing businesses.
What features should enterprise help desk include?
Enterprise help desk software helps large companies manage complex support workflows more effectively without compromising productivity or customer satisfaction. Typically enterprise help desk management software includes such features as:
- Multichannel ticketing system
- Ticketing system automations
- SLA management
- SSO login
- Self-Service tools such as knowledge base, communities, or answer bots
- Multibranding and localization
- Advanced analytics
- Integrations
How does enterprise help desk software work?
Enterprise help desk software is a platform for creating support tickets, distribution of them among support agents, and managing the requests all the way to resolution. Enterprise help desk usually performs the following major functions:
1. Provides a single point of communications so that customers or internal staff have a clear vision of where they should go to get help. Using self-service solutions like knowledge base, communities or chatbots an effective enterprise help desk system can help to increase customer satisfaction.
2. Gives instant answers to questions and solutions to simple requests. Enterprise helpdesk software allows to organize centralized hub of information, available to the users, so that they go thought self-service channels before contacting support agents. Enterprise help desk also offers tools for automation of simple tasks, like checking ticket status, or changing password, etc.
3. Helps to increase effectiveness of customer support agents by increasing the level of self-service and automation of ticket routing, priority and workflows. Enterprise helpdesk automates repetitive, or routine tasks and notifies agents on pending and unresolved issues.
4. Addresses SLA (Service Level Agreement).
5. Provides collaboration tools to the support agents to manage ticket resolution more effectively.
6. Measures user satisfaction and analyses the performance of support agents with the help of such metrics as first response time, resolution time, tickets volume, etc.
By implementing enterprise help desk across the enterprise departments, a company can streamline and automate the support workflows, organize data, provide answers up front, and increase customer satisfaction.
SaaS or Self-Hosted Enterprise Help Desk Software?
If you are looking for a managed solution where the process of installation, updates and backups is handled by the provider, then cloud version is a better choice. Payments for hosted enterprise help desk can be made on a monthly basis, and you can cancel any time. Overall, the cost of a SaaS package is relatively lower than of the Self-hosted software, where you also have to handle the cost of servers, software installation, maintenance and updates.
In case you are looking for full control over your help desk software, backups and data, and have a policy of storing all the data in your own environment, you need a self-hosted or on-premise enterprise help desk. There are also cases when a company needs to have access to the enterprise help desk only from local servers, or has a specific use case that is not covered by existing help desks, so needs access to the source code.
What Our Customers Say
"Useresponse is a tool for our company Wishlist: configurable, cost-effective and powerful. Pros: The people and support behind the company! It is a good mature feature set and was fairly straight-forward to setup. They customized our Wishlist as an enterprise help desk solution and we were impressed with the results. All can be customized the way we need: from triggers, bussiness rules, and automations."
Improve Your Customer Support
With Enterprise Help Desk Software
Ready to give a try? Sign Up for free to see all the features in action for 14 days or book online 1-in-1 demo